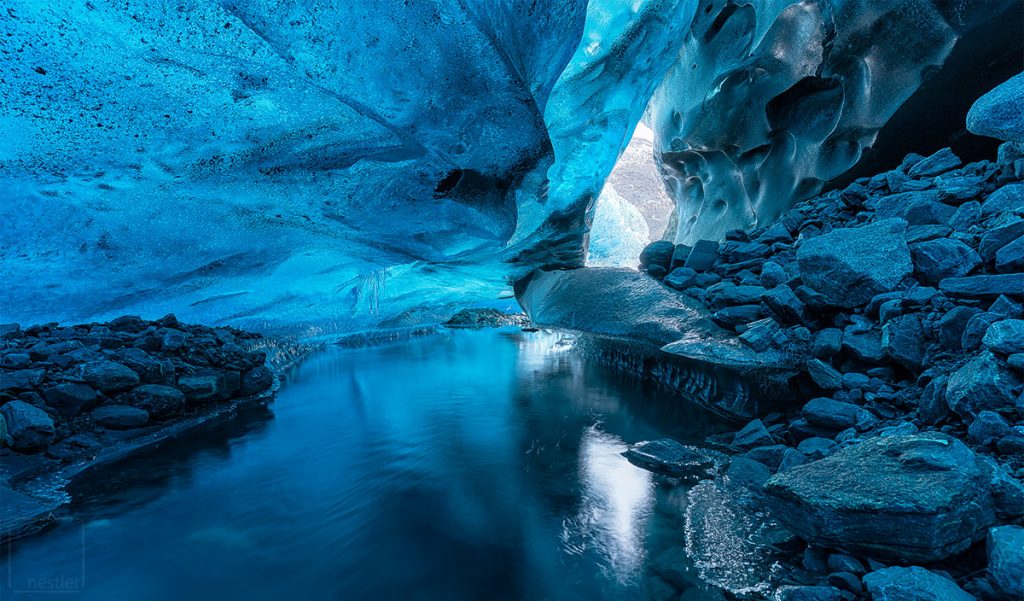 I love seeing ice caves! In fact, I don't think it's possible to ever see enough of their blue icy goodness. Their curves are mesmerizing. Their coldness is…cooling. There's really not much to dislike.
I grew up in Juneau, Alaska and have had the fortune of being able to visit the Mendenhall Glacier as much as I wanted. The hike up to the face of the glacier has gotten longer over the years. This is due to the fact that the glacier is retreating. It's impossible to count the number of times I've done the hike, but it has been a lot.
This past week I came up to Juneau for Thanksgiving after spending a month hiking around Southern Utah (the Zion Subway Tunnel Hike was awesome). After eating a bunch for Thanksgiving, I needed to walk some of that off. I headed over to West Glacier Trailhead and started the 3.5 mile hike to the face of the Mendenhall Glacier.
There are 2 primary routes you can take when hiking to the glacier. I simply refer to them as the upper trail and the lower trail. That's because I'm really creative like that. I can do the upper trail in 1h20m to the face of the glacier. I had never bothered timing myself on the lower trail so I thought that it would be a good day for that. Setting out at a comfortable for me pace, I was making pretty good time up to the rock fall that marks the half-way point.
Then I saw a bear
Black bears are a very frequent sight during the summer when hiking in Juneau. Seeing one at the end of November when the temps are below freezing? Not that frequent. I heard a rustle in the bushes and thought it was a porcupine at first. Then I saw it moving. Definitely bigger than a porcupine. This was a decently sized juvenile that was on his own. Thankfully he was moving away from me so I could unclench my cheeks.
I moved over some icy rocks before kicking into cruise control for the rest of the hike. I ended up making the trip in exactly one hour to the face. The lower trail is officially faster than the upper trail. I knew this already, but now I can tell people an actual number.
Let's find some ice caves!
In my experience, finding an ice cave at the Mendenhall glacier means walking along the edge and looking for entrances. This time around I found a lot of arches and caverns near the terminus. The closer you are to the terminus, the less stable the ice caves generally are. I've also found that they tend to be dirtier and less colorful. That was definitely the case this time. Everything up front was extremely dirty with lots of mud covering up the beautiful blue ice. I decided to head to the back where I knew there would be better pickings.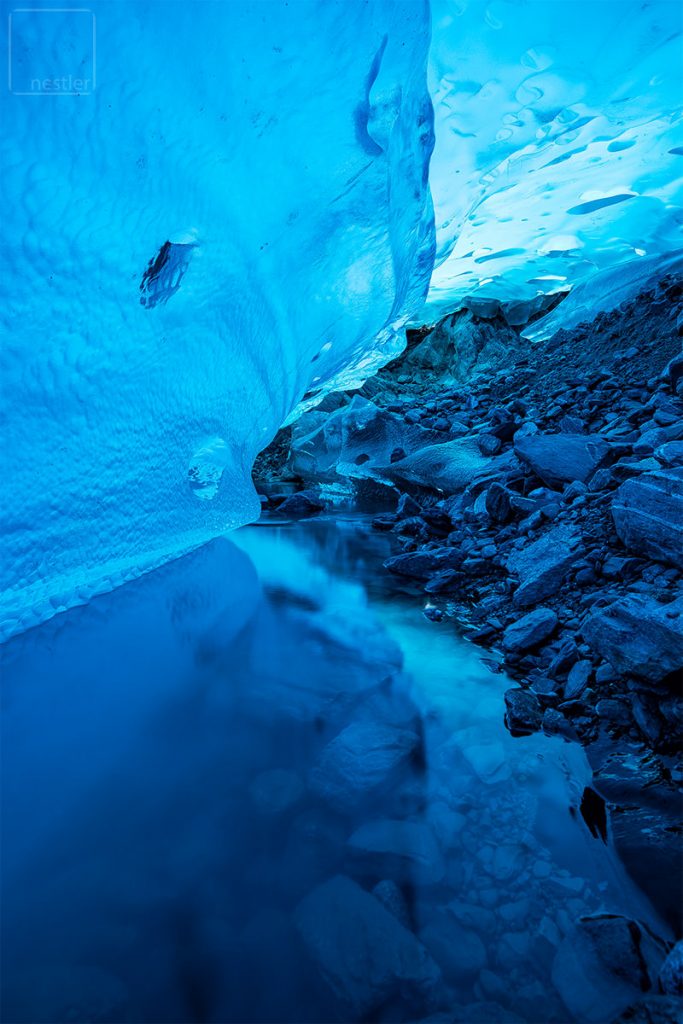 After a few minutes of walking along the west side of the glacier, I found it. There was a small stream of water coming out and a perfect entrance into the blue wonderland of ice. It wasn't the largest cave I've seen, but the colors were breathtaking. I like to say that glacier blue is the most unnatural natural color on earth. Spending an hour in here was easy for me. I love taking lots of pictures and due to lack of light, most exposures end up being around 8 seconds or so. Combine that with focus stacking and lots of great comps, time flies.
As I was walking out, the curves of the ice stopped me in my tracks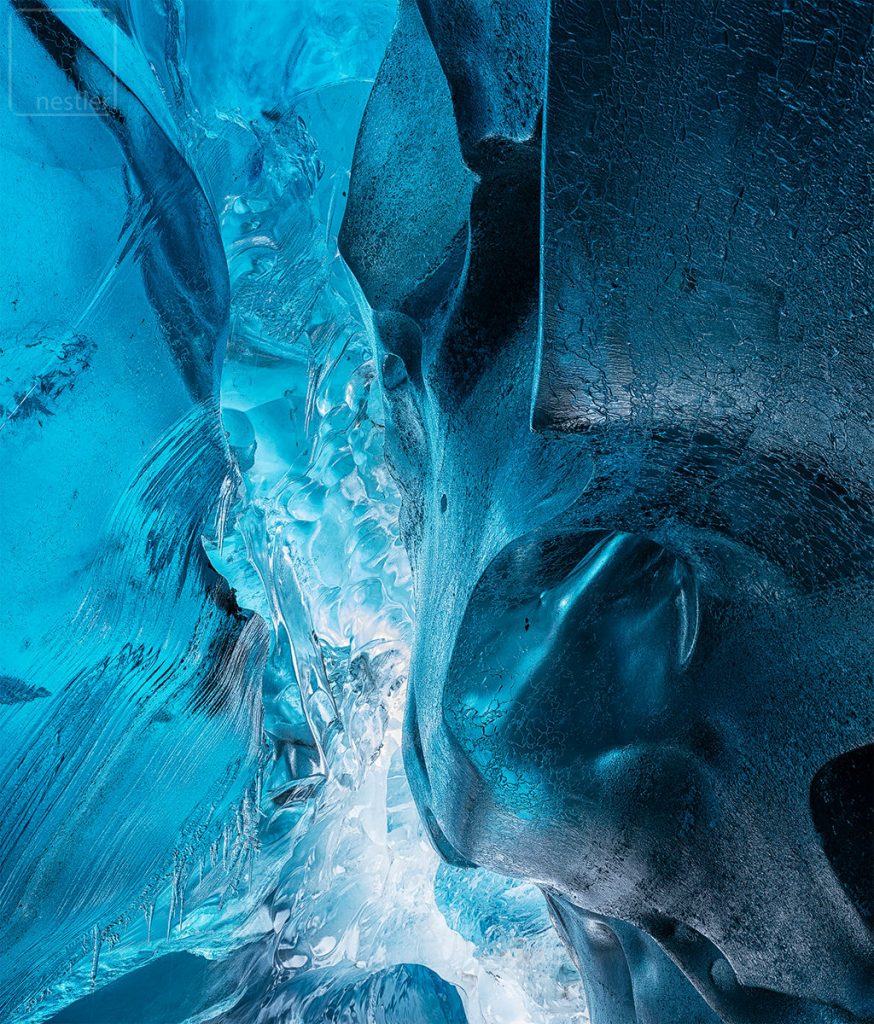 I can't even begin to explain why the entrance to this cave made me stop like it did. There was something majestic and breathtaking about the look of this particular ice. 30 minutes were spent in this exact spot taking some focus stacked shots to try and capture the beauty. I love the above photo (even if no one else does), but it pales to reality.
I often get asked if ice caves are scary and dangerous. They can be. This summer I was exploring one up near Valdez and after walking out and getting into my kayak, the entire ceiling collapsed on where I had just been standing. That'll wake you up in a hurry. This cave was not like that. Much more stable and didn't worry me in the least.
After exiting, I made my way back toward the face of the glacier to see if there was anything else worth checking out. Sadly, all my favorite viewpoints had changed since last winter and I was ready to head back for some grub. I decided to time my exit and it took me 1h2m for the return trek. Not too shabby.
I will definitely be making this hike many more times, but this time had something special. One of the reasons I visit the ice caves so frequently is that you never know when you will have that moment. It stops you in your tracks and engages you in a way that is hard to express. God speaks in those whispers of beauty.